About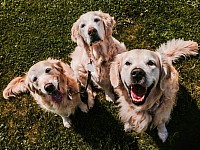 Runaround Hound Dog Walking Service provides top quality Dog Walking and Pet Service throughout the San Francisco, CA area. We are currently looking to fill up our pack for morning and afternoon walks.


Runaround Hound is ACC trained through Four Legged Fitness Mentorship and Training Program. Also licensed, experienced, Pet First Aid Certified by the American Red Cross and insured by Pet Sitters Associates, LLC up to $1, 000, 000.


Our primary concern is your dog's happiness and safety. Daily walks are one hour long and designed with your dog in mind. On each walk, positive reinforcement techniques are used to strengthen basic training. We integrate our packs so it doesn't matter if your dog is young or old, big or small, shy or confident, they are sure to have a wonderful time with other fun pups. Play groups are kept to no more than 4 - 6 dogs to maintain safety and individual attention. All groups enjoy lots of exercise and fun in a safe environment.


When a dog has behavioral issues such as accidents indoors, depression, aggression, high anxiety, destructive behavior, digging, barking, whining, begging, etc; it is usually do to under-stimulation and lack of exercise. Many of these issues can quickly be alleviated by giving your dog daily walks and the extra attention they deserve.


We work to get your pup as much exercise as possible. We will take your dog out for a full hour of exercises either in the morning or afternoon packs. We go for long city walks for 2 - 4 miles, hikes in the Presidio forest, John McLaren Park, Baker Beach as well as visits to local dog parks for puppy play.



We currently have spots available in our morning and afternoon groups but they are filling up fast. Please, contact us today to reserve daily walks appointments.


We can't wait to hear from you and start taking your dog for his daily adventures!